Crystal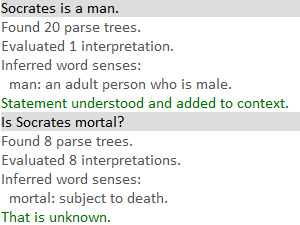 Crystal is a question answering application which I built as my capstone project at PSUT.
She
It can parse natural language sentences, recognize word senses and make logical inferences. It's not domain-specific, so vocabulary coverage is quite good. Grammar coverage, on the other hand, is fairly basic. Probably the biggest glaring hole is the complete lack of support for adverbs, although there are plenty of smaller flaws (numbers, proper support for plurals, etc.).
The workflow is pretty simple. The user can tell Crystal facts in the form of declarative sentences, including conditionals and compound statements, and it will incrementally build up a context and check every new statement against it, resolving anaphora (pronouns) and presuppositions (definite NPs). At any point in the interaction, the user can ask Crystal subject or object questions which will be answered (if possible) based on the context.
Implementation
The program is written in Python and uses the NLTK chart parser with a VerbNet-based unification grammar for parsing, DRT techniques for converting parse trees into semantic representations, a vocabulary derived from WordNet® and VerbNet semantic limitations for word senses, and finally an inference system powered by the Prover9/Mace4 theorem prover and model builder.
When I started working on Crystal, I had never touched NLP, so the experience has taught me a lot about parsing, linguistics, semantics and logical inference. Of course, this also means that the code is riddled with algorithms, techniques and design decisions that will cause many a facepalm to most linguists, NLP practitioners and even software engineers, for which I apologize in advance. This state of affairs is exacerbated by the fact that the whole project, from inception to completion took about two months of part-time work from a single developer whose goals did not include maintainability.
The performance of the system is pretty abysmal, taking about a second or two per sentence for simple sentences on a midrange PC, 5-10 seconds for complex or highly ambiguous sentences and up to several minutes in degenerate cases. The bottlenecks are mostly fixable, but since the system was never meant to be more than a proof of concept, I do not plan to ever fix them properly. Memory usage is similarly ugly, at about 800MB when the full WordNet vocabulary is loaded. Rewriting the NLTK parser in C/C++ should reduce that by an order of magnitude.
Sample Sessions
The original project demo included a number of sessions which showcase particularly interesting features of Crystal. Keep in mind that these were hand-picked, so while none of them are scripted, they still represent the best cases. The average experience with Crystal's understanding will not be as impressive.
Note: Input is in blue, logging in black and output in green.
Basic sentence understanding and anaphora resolution.
Basic logical inference.
Handling of "donkey sentences".
Part of speech disambiguation.
Sense disambiguation.
Presupposition resolution.
Various takes on possessives.
License
Due to library license requirements, this project is licensed under the GNU GPL.
Download
Documentation: This is a 25 page long PDF report detailing the implementation of Crystal. A good place to start if you are interested in the algorithms behind the project or want to tinker with the code.
GitHub Repository: This can be checked out using git or downloaded as an archive. The included README.md file explains how to run the program. Note that compiled binaries of Prover9 and Mace4 for Windows and Unix are checked into the repository as upstream versions are outdated.
Screenshots